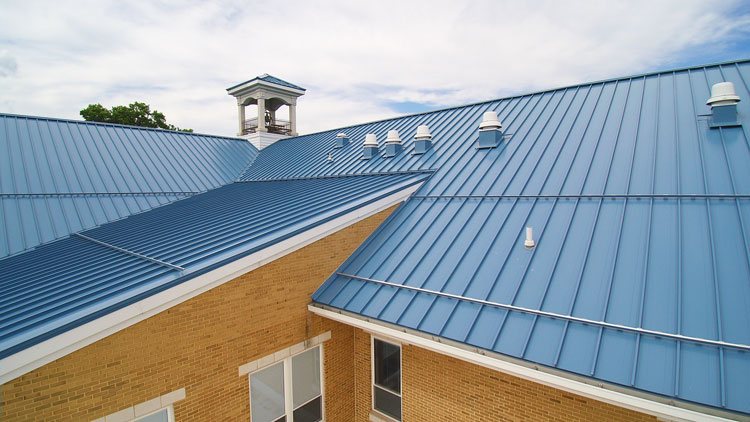 A commercial roofing system is the crucial building block of any company's building. The materials used in a roof can be quite different and chosen according to the requirements or budget of the owner. If you own a commercial property, you need to make sure that its roof is in good shape at all times to prevent disruptions in business.
Before you hire a company that specialises in such roofing, there are a few important factors that should be kept in mind.
Types of Commercial Roofing
There are various types of commercial roofing materials that people can choose for their buildings or structures:
Metal
Among the most frequently used metals for commercial roofing are steel and aluminium due to their affordability, although these materials may be coated with compounds containing other metals. Metal roofing is often considered to be the greenest option for commercial properties.
The metal roofing systems used in commercial buildings are fire-resistant and durable. They are often insulated to prevent rusting and damage caused by ultraviolet rays and other environmental factors. A metal roof can easily last up to 50 years if maintained well and regularly. Mostly, business owners prefer metal roofing since it is easy to install and lightweight.
BUR (Built-up Roofing)
BUR stands for built-up roofing that has multiple layers of various materials to enhance durability and make it waterproof. Built-up roofing is composed of layers of reinforcing fabric and bitumen. The top layer may be made of gravel or stone. Before you consider this type, it is a good idea to get commercial roofing quotes in Perth so it's easier to estimate the cost of installation.
By combining the layers of weather-resistant materials, they create a continuous surface. BUR can last for up to 30 years and is quite useful during the cold. Moreover, it offers protection from UV rays that may cause damage to the roof over time.
Mod-Bit Roofing
Mod-bit roofing, also known as modified bitumen roofing, is made from bitumen and roof fabrics. In comparison to other types of commercial flat roofs, modified bitumen roofs offer better tensile strength, as well as maximum protection. This type of commercial roofing is suitable for businesses that have a lot of activity.
Major Aspects of Commercial Roofing
When hiring a business for commercial roofing, it's crucial to look for responsive professionals and different services.
Installation
Installing a commercial roofing system can differ greatly based on the material, the price, the number of labour hours, and the difficulty level. Hiring a commercial roofer who is dependable and capable will ensure that the work gets completed on time and within your budget.
Inspection
An inspection of the commercial roof will include checking its membrane, deck, vents, flashing, gutters, downspouts, and drainage pipes. In this way, you can easily detect the problems earlier and avoid any repairs in the near future.